intimate Franco Lebanese wedding in Paris.
I do love photographing couples in love! I think i am pretty good at it. That is I am pretty good at making my clients just relax and have some fun with their wedding photographer. It is probably rule number one actually, make your clients relax so that you can be creative and get the most out of their wedding photographs.
Elie and Sandra married at the mairie of the 11th arr. of Paris. We went around the city for their wedding day photo tour, right after the ceremony which took us to the seine & the isle saint louis, the Louvres and various other landmarks over a three hour period.
Paris is the most beautiful city to take photographs with a couple. There are numerous destinations where a wedding photographer may take his clients in the city of love. Yes we are completely spoiled! There are always the obvious such as the Eiffel tower, the Alexander the III bridge or the Louvres. Having say that I do love going to other locations around town, sometimes less obvious such as particular parks, cobblestone streets in a fancy neighborhood, a stop over at a terrace of a cafe where i usually hang out. It is a real fun city for photographs, and every street corner is almost a dream for a photographer with a creative mind.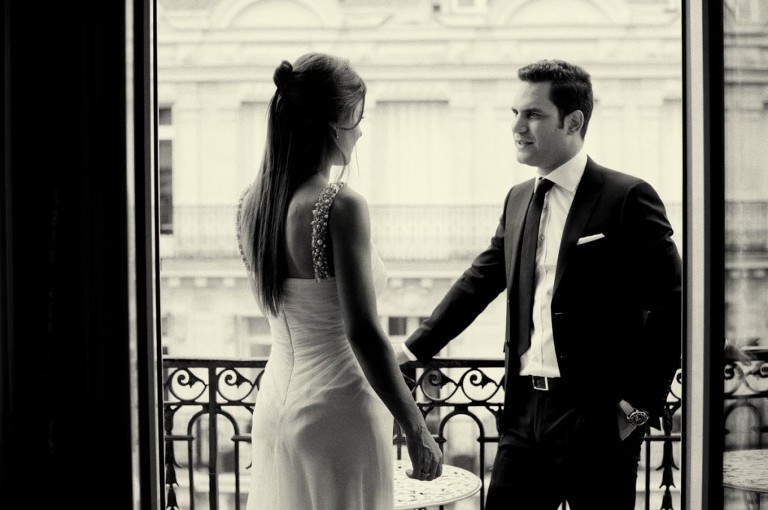 Most important is that your couple is having a great time with their photographer, not everyone is a rock star and enjoy being photographed. People are often not used to having their portrait taken and it takes a little bit of a guidance at first to tell your clients what to expect from their Paris photo tour. A photo session has to be fun, not too contrive or set up with a serie of posed photographs.
I have a lifestyle approach where i let my clients being themselves with a certain amount of guidance, a few poses that often work best. Most of the time, once they are at ease with being photographed, a lifestyle approach works best for me. Finding the right location, the right light and with a bit of direction, let your clients being themselves, enjoy each other with beautiful Paris in the background is often the key to great wedding photography in Paris.
Simplicity in the settings is often best. For a photo session to work, whether an engagement & wedding photo shoot or family portraits, the most important is the photographer's approach so that everyone is having a wonderful day out, the rest will follow naturally.