A few photographs from an elopement I photographed recently in Paris. S + M officially married at one of the terrace of the Shangri-La hotel, overlooking the Eiffel tower. It rained a little bit during the ceremony. There is a saying in France " Mariage pluvieux, mariage heureux! "  which translate to " A rainy wedding, a happy life together!"
Elopement at the Shangri-La hotel, Paris. 
I wish both my clients a life blessed with long lasting love. Love is the greatest power, it will make you travel up to the skies. I wish them both  a life blessed with happiness and joy. May your love be strong and bright, may your life be filled with everlasting light.
It was a real pleasure to be part of this wonderful day where two beautiful souls turned into one. Shirley was quite shy and private. She did not wish to have a whole day of photography. I was to photograph their wedding ceremony at the Shangri-La. We decided on a couple of locations for their photo session in Paris. The bride is also an architect and worked with Frank Gehry on the fondation Louis Vuitton project, right outside of Paris.  This incredible modern & futuristic architectural building is now open to the public.  This is where we headed to for some of their wedding portraits. We then went to the Louvre for more photos, before everyone headed back to the hotel for a well deserved cocktail hour. It is always a real privilege to be able to have the opportunity to capture such important moments in ones life.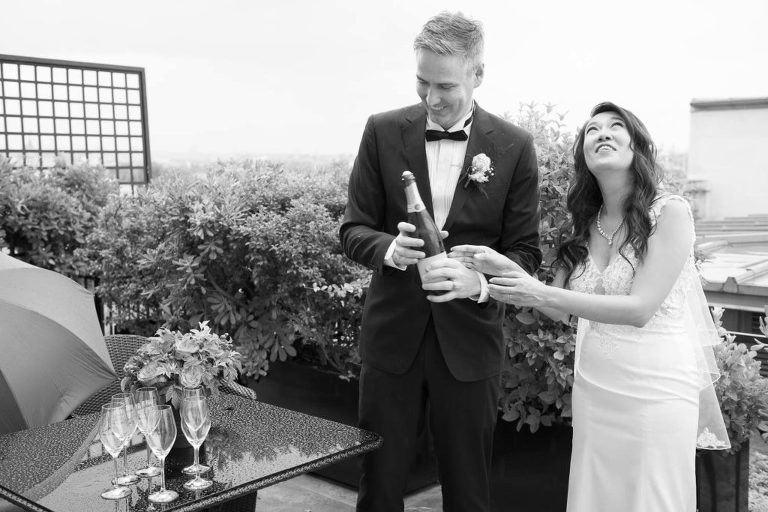 Thank you for letting me share in this joyful day with your family in Paris. I wish you all the best as you embark on this wonderful union.  On a side note, I love being a wedding photographer. I fall into it many years ago while I was living in Sydney, Australia. I was just starting ma career as a young photographer working for the " Sydney Morning Herald ".  I had a friend who I studied photography with in London. She had decided to embark on a professional career as a wedding photographer in Brazil. I always loved looking at her work. It had great energy and passion. She introduced me to a couple who were getting married in Australia, planning a beach wedding in Sydney suburbs. I said Yes, why not!
I did not know what to expect, my first wedding assignment! I did not meet my clients until the very same day. I remember meeting the bride at a country house on the beach.  The ceremony took place a few steps below overlooking the Pacific ocean. A small group of friends and family were present to share this very happy moment in their life. I was in the middle of a small & private family reunion. It felt like home, I quickly became part of the family. It felt very natural, my task was to capture on film my couple wedding day. I loved every bit of it.  I remembered you could feel the emotions, the tears, the family bounds, the inner beauty of the bride, the joy of the groom and everyone around them. I felt completely at ease and very happy to be part of their special day.
A few days later, I picked up my film at the lab, and stared at the photos of the day from my contact sheets.  The same night, I grabbed a red pen and started marking some of the contact sheets for printing, The next day, I was in the darkroom printing some of the visuals from my first wedding. I must have stayed in the darkroom over two to three days, making small and larger prints. I remember looking at all the love that i was able to capture and share with families and friends on my printing papers, drying on the walls of the darkroom. I do not remember their names ( this was well over 20 years ) but I remember their smiles and happiness of everyone. I successfully created a beautiful sequence of photos that tell the story of their wedding day. I still vividly remember some of the stills that I took at the time and the special moments that I shared with everyone. I had shot 8 rolls of tri-x film, all black and white. Those were the days!
It was a total discovery for me. I quickly realized that I wanted to shoot more weddings. Years later, I realized that the reason why I love wedding photography is that I believe in Love I guess! I am a romantic at heart. I believe in the beauty of commitment to one another.  Since my first wedding photographed on a beach in Sydney, I photographed quite a few weddings, small and large events. Every wedding is unique, it is exciting to be able to document my clients special moment in their life. It is always a gift, and i feel privileged to be allowed to document one's wedding day.