Elope in Paris, A unique photographic experience.
As a destination wedding photographer, I sometimes dream of having the opportunity to photograph a wedding in some distant, exotic location! I often see young generation of wedding photographers traveling the planet and promoting themselves as "exclusive international wedding photographer".  Sometimes, an instagram platform will catch my eyes with an elopement story taking place in Iceland or the far north region of Norway in winter time. I hear myself going "Wow, this is unreal!".  Well, I guess it is all in the mind of the beholder. I am proud and happy to say that I am a local Paris wedding photographer. I moved back to the city in 2007 after 25 years of traveling the world! My playground is the city of light and Normandy Region.
Getting married in Paris, just the two of us.
My territory and area of expertise is primarily the amazing city where I live. I have a foot in Normandy where I was born as well. My wedding travels would generally take me to the Eiffel tower, place de la Concorde and some of the most amazing historical landmarks that Paris has to offer. A few times a year, I would venture to Normandy, Brittany, Burgundy, the Dordogne region as well as Provence for one of my so called far off destination wedding affair. I do not travel the world much anymore.  I love train distances, a train journey give me the time to immerse myself in a new landscape.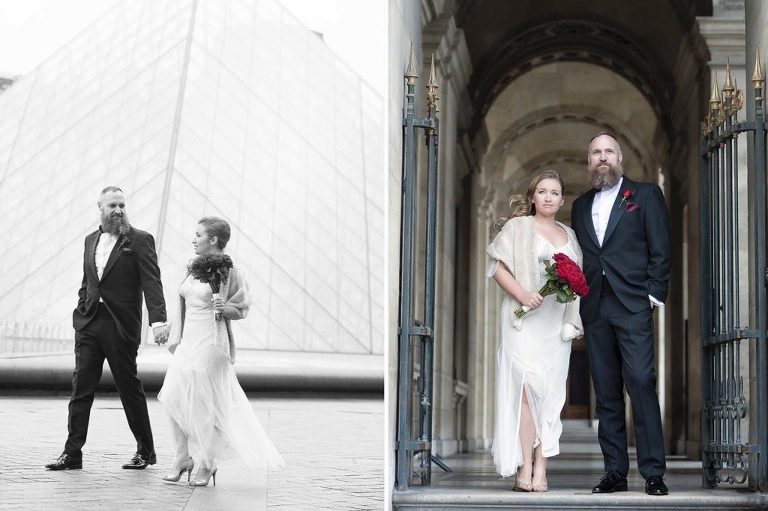 The perfect photo story of an elopement in Paris.
This is my most recent elopement story which I photographed in Paris this past winter with Canadian clients. Although they both are well travelled, they were visiting Paris for the first time. They decided to elope in the city of light for obvious reasons. I was just looking at the serie of photographs that I took over the course of an afternoon with them recently. A few months had gone by, in retrospect, they looked so perfect together with gorgeous Paris architecture as a backdrop.
The weather was not the best. We had to shelter in a cafe a couple of times, waiting for the rain to stop. Lucky enough, we did not get to use of an umbrella for any of the photographs.  They were supposed to have a ceremony at the foot of the eiffel tower. Because of poor weather condition, we decided on the arcades of the Louvre museum for the ceremony instead.
A traditional vintage 2CV from 1958 took us around town for our photo story. The 2CV from Citroen was widely popular in the 60's. It was actually my first car in the 80's, great memories, unfortunately not one photo to find for the record. I did not know i was going to become a photographer yet.

How to approach a photo tour in Paris for an elopement.
Clients usually book me after having looked at the photography on my website. My wedding photography style is a mixture of portraits & lifestyle & fashion visuals when it comes to photograph a wedding or an elopement. My style is quite lively. I do not like to dictate poses to my couples in an autocratic manner like you often see in blogs. The same poses over and over again …. just like in a play that the photographer / director rehearsed with previous clients and will perform over again. The art of photography has to come naturally and infuses gently like a good tea.
I like to meet my clients the day before their elopement if possible. This way we can have a chat, get to meet each other face to face, share a few drinks. It is a more human approach to just meet on the day of their wedding where I would start taking photos almost instantly! I have a lot of experience with photographing people in general! The most important is to establish a relationship of trust with your couple so that they relax and just be themselves. There is a little bit of psychology involved in every good portrait.
Paris photo tour for a romantic elopement.
The perfect photo story comes together when you trust your photographers instinct. The light is not always best, sometimes it rains in Paris. Taking photographs makes me happy and drives a whole lot of positive energy. Positive engergy is passed on to  my clients and miracles happens. Being demanding with my craft, i do have high expectation for myself. I know that i will remember the day as unique unique and special. It is always with great pride that i look back at one of my wedding story. I am very thankful to the universe.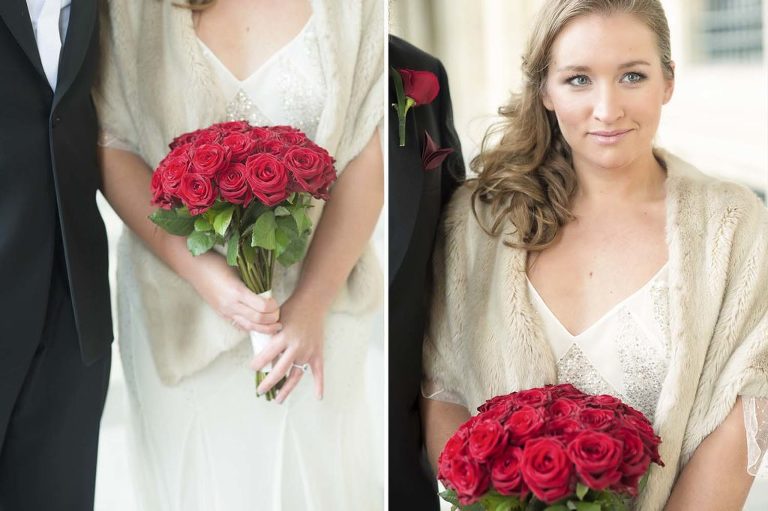 You will find a few photographs from Ken and Amy's elopement  below. I have posted a larger selection of their elopement photographs in my gallery page if you are interested in seeing a larger elopement story. They did not wish to have the getting ready photograph to have more time allocated to photos in Paris. I was going to meet them outside of their hotel with the 2CV. I had discussed with the driver where the ceremony was going to take place. We had a rough understanding of the main locations I was hoping to stop on the way. We met at 2pm, had four hours ahead of us including photographs of the ceremony and photos around the city. Four hours of photography sound like a hell of a lot to a lot of us! When you are in the midst of it, you sometimes would like to call for an extra hour!
Favorite landmarks for a Parisian wedding adventure.
Time flies, you have to take into consideration the traffic going from A to Z. We had decided to take some photos at the Louvre museum, the gardens of the palais Royal with a stop over at the river seine and the pont des Arts. Our photo tour  took us west of the city, to the place de la Concorde, the pont Alexandre III and the Eiffel tower with a few stops in between. It is a total adventure, bigger then life at times, specially when you are traveling across town in a 1958 2 CV!  By the end of the 4 hours, we are usually quite exhausted. We decide to have a final drink at one or the many Parisian terrace if the schedule allows!
It is exactly what we did with our driver and our couple. By then, we were friends for life! It is quite intense to photograph a couple in Paris over their elopement. Enjoy the photos and head to our gallery page to see the full story.