Gorgeous destination wedding with Elle & David in Paris this past week end! The wedding had to be postponed a couple of time for family reasons. We have been in touch over the past couple of years now, communicating with Elle & David on a regular basic. I was so exited at the idea of finally meeting the two of them. The wedding took place this past week end finally. We had a lovely time. Both of them + close members of the family who could attend were ever so charming. They did get engaged in Paris over two years ago and it was on a bridge that first came to their mind the idea of a Paris wedding. I am so glad they contacted us both for photo and video via WeddingLight Events. I had a great time & I love looking at the final result. David was a lot of fun to be with and Elle had a big smile o her face through out the whole event.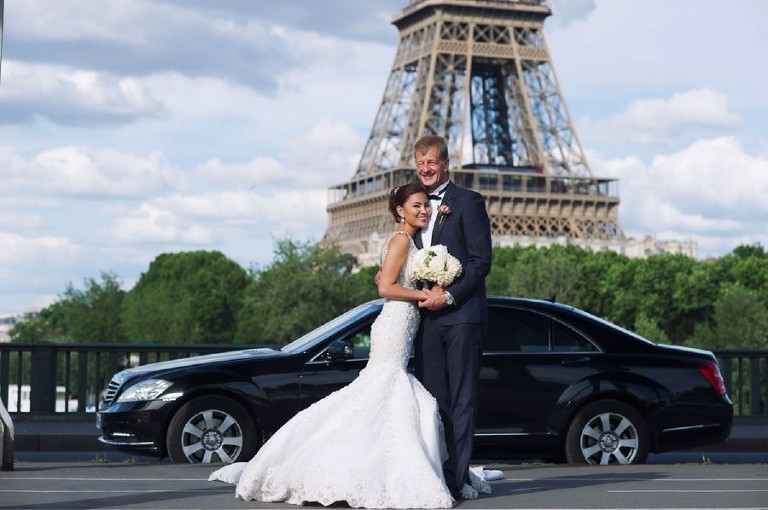 They decided to get ready at the Georges V after all. The mother of the bride was running late which gave us some extra time to snap a few gorgeous portraits of Elle before the ceremony. The wedding ceremony itself took place at the chapel Expiatoire. The florist had done a beautiful job with the decor of the church & the weather was simply perfect for an afternoon of great wedding photography in the streets of Paris. David said that they decided to get married in Paris looking at the Eiffel tower one night from one of the bridge. They fall in love with the city then. They wanted a lot of photos outside in the streets of the city. I just had to make sure that I was not to forget the Eiffel tower in the background at some point!
Wedding video of Elle + David shot in Paris this past monday! There are quite a few moving parts through out the film. We had a lot of fun shooting it as well as editing the piece for them.
We toured the city for a couple of hours starting the photo session at the ile saint louis, I then took them to the Louvre, palais royal, champ de mars and the Bir Hackem bridge to finish with to make sure I was going to have the Eiffel tower picture at twilight.
The reception took place at the Shangri-La hotel where they had a diner with their close family. I hope you enjoy looking at this photo story as much as i had fun shooting it.